A PERSONAL ENRICHMENT RESOURCE
And the things you have heard me say in the presence of many witnesses entrust to reliable people who will also be qualified to teach others. (2 Timothy 2:2) (NIV)

In 2006, following nearly sixty years of apostolic teaching ministry to the body of Christ, Dr. Cottle began to focus on building his legacy for the following generations. His dream was to bring the whole of his life curriculum together with "handles" for others, especially emerging leaders to access. Follow this link for Dr. Cottle's article, "LEGACY MATTERS."


ONE LIFE WITH FOUR STREAMS
Dr. Cottle has worked tirelessly in his home office for the past two decades cataloging over five hundred three-ring notebooks into four sections containing his personal study notes, fifty plus college courses, fifty plus books, hundreds of sermon outlines, publications, articles and newsletters. He has defined these sections as his four life streams: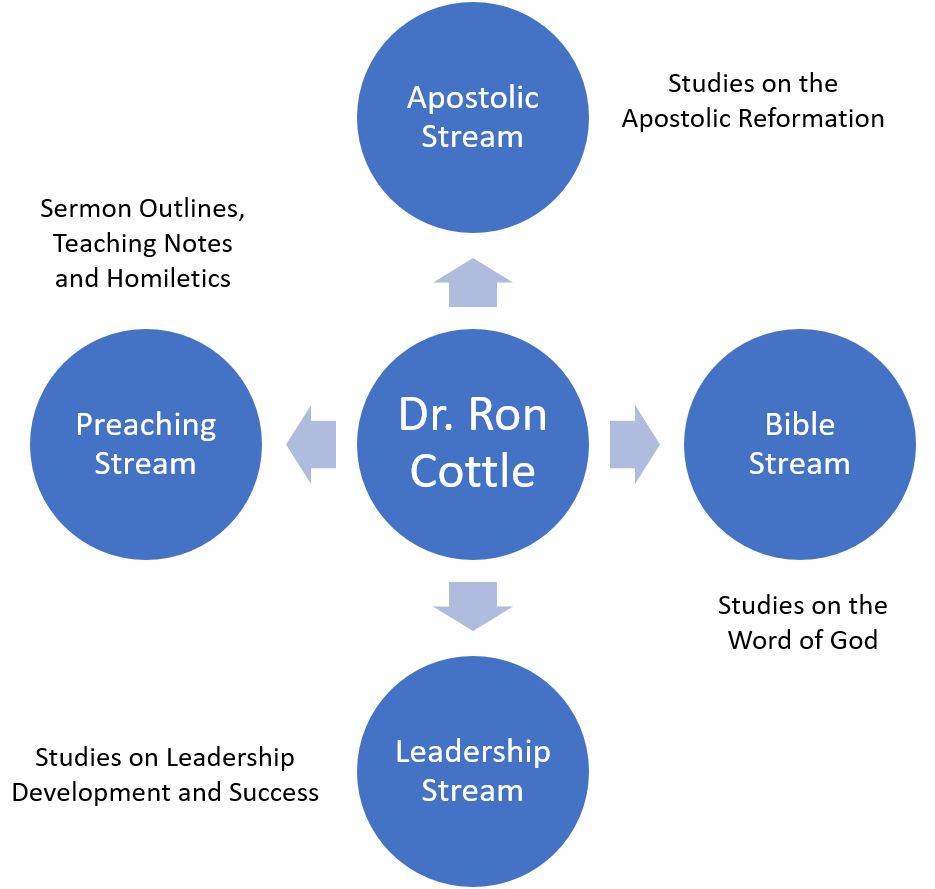 ONE WEBSITE WITH FOUR STREAMS

In the summer of 2017, Dr. Cottle was reunited with his spiritual son, Thomas Hale, of Russellville, Arkansas. Working intensely for twelve months, they have transformed the notebooks, the books, the boxes, the filing cabinets, the video recordings, the CD's and the cassette tapes into four online streams available as individual subscriptions or all together in a Master Key subscription.

Their purpose is to convey to the Church of the 21st century the legacy of Dr. Cottle's calling and lifework as a teaching apostle of the Word of God. In so doing, the Embassy School of Leadership seeks to enrich and equip Christian leaders and workers to fulfill the Great Commission of the Church.
THREE RESOURCES IN EACH STREAM
1. THE CLASSROOM: Each stream includes a classroom of revolving college courses by Dr. Cottle. Each course has ten academic hours of streaming video with a download and print course study guide (syllabus) that outlines the teaching. All classroom courses come with unlimited and unending streaming access to the videos and an individual digital rights license to the course workbooks (syllabi).

2. THE LIBRARY: A collection of revolving teaching notes available for download, excerpts from the Cottle library of digital books and a revolving digital storeroom of streaming audio files and video files. See the four streams for more detail on the libraries.
3. THE MENTOR: An exclusive closed Facebook group for its stream subscribers to send and receive posts, view live feeds, get special product offers and receive privileged information and personal insights from Dr. Cottle.

○ CLICK ICONS BELOW TO EXPLORE THE STREAMS AND THE MENTOR
○ SUBSCRIBE TO ONE OR MORE INDIVIDUAL STREAMS
○ SUBSCRIBE TO ALL FOUR STREAMS WITH A MASTER KEY

○ THE MENTOR IS INCLUDED IN ALL SUBSCRIPTIONS